Landscape service company Mayfair Developments Group Ltd has been fined for selling modified machinery which was involved in the fatal injury of a worker.
Portsmouth Magistrates' Court heard that, in May 2017, worker James Criddle was attempting to clear a blockage in the machine when he became entangled in the rotating shaft. The shafts on either side of modified Ecogreen Compact Screener 1800 machine were unguarded; the guards installed at the time of manufacture were missing at the time of the sale. There were other defects with the machine; 4 additional holes had been cut in the machine, and there were a series of uncovered holes on either side of the machine, all giving access to dangerous moving parts. The overall condition was poor.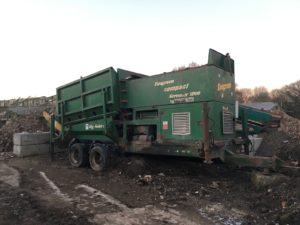 An investigation by the Health and Safety Executive (HSE) found that the machine had changed hands several times before it was purchased by Mayfair Developments Group Ltd, and while in their possession, the machine was worked on and repaired, including the cutting of two additional holes. The machine was sold to Baldwin Skip Hire Ltd in May 2017 without any manual or instructions, and without any type of written declaration or disclaimer regarding the condition. A few days later Mr Criddle, an employee of Baldwin Skip Hire Ltd, was fatally injured by the machine.
Mayfair Developments Group Limited of Eastleigh, Hampshire pleaded guilty to breaching Sections 6(1)(a) and 6 (1)(c) of the Health and Safety at Work etc. Act 1974 and was fined £4,000, ordered to pay costs of £3,000 and a surcharge of £170.
Speaking after the hearing, HSE inspector Ivan Brooke said, "This tragic incident led to the avoidable death of a young man. This death could easily have been prevented if the risks had been identified and rectified.
"Sellers need to be aware of the legal duties placed on them when supplying machinery and articles for use at work, and that these duties extend to second hand items.
"Buyers should also make sure that they properly assess and apply effective control measures to minimise the risk from dangerous parts of machinery."
In May 2019, Robert Baldwin was found guilty of neglect in failing to discharge a duty under the Health and Safety Act, in a prosecution brought by the Crown Prosecution Service. He was sentenced 12 months imprisonment. In the same case, Baldwin Skip Hire pleaded guilty to a charge under the Health and Safety at Work Act 1974.  The company was fined £75,000.
Notes to Editors:
The Health and Safety Executive (HSE) is Britain's national regulator for workplace health and safety. We prevent work-related death, injury and ill health through regulatory actions that range from influencing behaviours across whole industry sectors through to targeted interventions on individual businesses. These activities are supported by globally recognised scientific expertise. hse.gov.uk
More about the legislation referred to in this case can be found at: legislation.gov.uk/
HSE news releases are available at http://press.hse.gov.uk