A composite door manufacturer, Supaglaze Limited trading as Shepley Windows, was fined after an employee's leg was trapped under machinery causing a serious laceration and fractures.
Manchester Magistrates' Court heard how on 21 January 2016, the employee had been attempting to resolve a jam at the rear of the CNC Uniteam Esseteam Sprint machine, when it began to move. His leg became trapped under the machine.  The interlock guard on the machine had been defective for a period of many years, and the safety gate was always left open.
The HSE investigation found that there was no safe method for accessing the rear of the machine. Employees had not been trained in a safe system of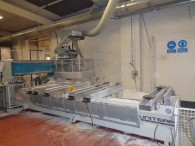 work for accessing the rear of the machine and in the use of guards and the safety gate.
There was no system in place for monitoring guards and reporting defects.
HSE inspector Lisa Bailey said after the hearing: "Had Supaglaze Ltd checked and monitored the guards on the CNC machine, repaired the defects, and adequately trained their employees then this incident would not have occurred".
Supaglaze Ltd trading as Shepley Windows, of Outram Road, Dukinfield, Cheshire, pleaded guilty to breaching Regulation 9 and Regulation 11(3) of the Provision and Use of Work Equipment Regulations 1998, and were fined £30,000 with £1196.30 costs.
Notes to editors 
The Health and Safety Executive (HSE) is Britain's national regulator for workplace health and safety. It aims to reduce work-related death, injury and ill health. It does so through research, information and advice, promoting training; new or revised regulations and codes of practice, and working with local authority partners by inspection, investigation and enforcement. www.hse.gov.uk
More about the legislation referred to in this case can be found at: www.legislation.gov.uk/
HSE news releases are available at http://press.hse.gov.uk