There was a healthy turnout in Birmingham on Monday as business leaders, worker representatives and regulators from across the Midlands met to discuss how to help more people come home safe and well from their jobs. 
The Health and Safety Executive (HSE) held one of the seven #HelpGBWorkWell events at the city's Holiday Inn Hotel. More than 100 leading industry figures from organisations such as High Speed Two Ltd, Goodyear Dunlop Tyres, Rolls Royce discussed ideas and spoke about shaping the new safety and health system strategy, aimed at helping GB work well. 
Key speakers included GMB union general secretary Sir Paul Kenny, and Deborah Edmonds an occupational health and strategy specialist. However, anyone can join the conversation and give a view on the new system strategy via Twitter or HSE's Facebook, using #HelpGBWorkWell.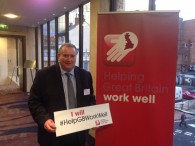 Sir Paul Kenny supports #HelpGBWorkWell roadshow
The roadshow has been travelling around Great Britain and will finish in London on 2 February where the Rt Hon Justin Tomlinson MP will close the event which by that time will have listened to the views and ideas of over 900 attendees and reached around five million people on social media channels. 
Notes to Editors:
The six themes for the Helping Great Britain Work Well strategy are:

Promoting broader ownership of workplace health and safety
Highlighting and tackling the burden of work-related ill-health
Supporting small firms
Enabling productivity through proportionate risk management
Anticipating and tackling the challenges of new technology and ways of working
Sharing the benefits or Great Britain's approach
The Health and Safety Executive (HSE) is Great Britain's national regulator for workplace health and safety. It aims to reduce work-related death, injury and ill health. It does so through research, information and advice, promoting training; new or revised regulations and codes of practice, and working with local authority partners by inspection, investigation and enforcement. hse.gov.uk