A Manchester based construction company has been sentenced following unsafe working practices on a construction site, including no welfare facilities, unsafe working platforms and dangerous electrics.
The property developers were carrying out renovations and an extension to a 1930's house in Kenmore Drive, Northenden, Manchester. A member of public raised a concern with HSE claiming that men were working on unsafe home-made platforms and that the site was insecure and could be accessed by children.
Manchester Magistrates court heard that HSE's site inspection found home-made trestles built from loosely stacked breeze blocks, irregular electrics and no welfare facilities. The garden shed has also been converted into temporary accommodation for one of the workers to provide night-time security.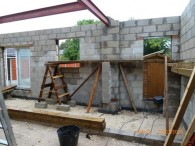 CYO Properties Ltd were immediately served with a number of Prohibition and Improvement Notices on site during October 2015 and complied with them all in full. They pleaded guilty to breaching Section 2(1) of the Health and Safety at Work etc. Act 1974 and was fined £40,000 with £3,750.16 costs.
HSE inspector Matt Greenly said after the case: "CYO Properties failed to protect their workers from a foreseeable risk of serious harm. Although no-one was injured with the conditions on site someone could have easily fallen from height, which accounts for around a third of all work related deaths in the Great Britain."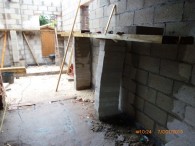 "Using electrical cables which had been extended by merely twisting together live wires is inexcusable, anyone working on or visiting this site could have easily suffered an electric shock leading to serious injury or even death. The absence of welfare shows a lack of respect for the basic rights of the workers on site.
"This case sends a clear message to any company involved in construction work that to run a site safely requires knowledge and experience, it is simply not acceptable to hope for the best taking shortcuts which any layperson could see were highly dangerous."
See http://www.hse.gov.uk/construction/safetytopics/workingatheight.htm for more information on work at height safety in construction