Two Sheffield brothers were jailed for safety failures after a building collapse left three injured, up to 20 people temporarily homeless, and nearby properties evacuated. 
Naveed and Rizwan Hussain were prosecuted by the Health and Safety Executive (HSE) at Sheffield Crown Court following the collapse of a three-storey terrace in Brook Hill on 23 March 2013. 
Two residents and a builder suffered minor injuries and the immediate area had to be evacuated when the front of the property and the flats on the two upper floors caved in.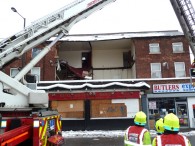 HSE told the court it was 'remarkable' that no one had been killed given the extent of the collapse. The property, formerly Butler's Balti House, was so dangerous after the incident it had to be demolished by Sheffield Council. 
The court heard the two 'incompetent' brothers had destabilised the structure of the building while refurbishing the basement. HSE's investigation found the central wall between 192 and 194 Brook Hill had collapsed due to the Hussains' poorly-planned and badly-managed refurbishment project. 
The construction work by the Hussains involved lowering the floor in the basement and removing a number of internal walls. While that was underway, the central wall was undermined, causing it to collapse. In turn, the floors of the flats above and the front wall caved in, injuring three people.
 HSE said the Hussain brothers were not competent to carry out the work and were responsible for a number of safety failings – crucially they had no controls in place to support the building while it was being modified. 
The court heard Naveed Hussain had been the recipient of enforcement notices from HSE on a previous building job relating to failures to plan the work properly. 
Rizwan Hussain, 39, of Rutland Road, Sheffield, was given a 12 month custodial sentence and a fine of £42,000 with £40,000 in costs after pleading guilty to a breach of the Health and Safety at Work etc Act 1974, a breach of the Construction (Design & Management) Regulations 2007 and a breach of the two  Prohibition Notices issued on 15 May 2013. 
Naveed Hussain, 33, Pitsmoor Road, Sheffield, was given a 12 month custodial sentence and fined £40,000 with £60,000 to pay in costs after admitting a breach of the Health and Safety at Work etc Act 1974 and a separate breach of the same Construction Regulations. 
After the hearing, HSE principal construction inspector Dave Redman said: "All three people injured in this avoidable incident were fortunate not to have been killed. One was saved by a table that had fallen across his body and shielded him from falling debris. 
"But their narrow escapes owed more to luck than judgement on the part of the defendants, Rizwan and Naveed Hussain. Both acted incompetently in dealing with the project and fell woefully below acceptable standards.  
"When carrying out major building alterations it is imperative that skilled structural engineers are employed to advise on the temporary supports needed. It is equally important that competent contractors are then used to ensure that those supports are correctly used for the duration of the work. 
"The risks associated with this type of project are well-known in the construction industry and they are significant.  Where competent people are not used and inadequate controls are employed there is always a risk of a catastrophic collapse and multiple fatalities."     
His Honour Judge Murphy, sentencing, remarked: ""It was little short of a miracle that more people were not seriously injured or killed. This was a very serious incident "caused by your arrogance and greed. 
"A statement needs to be made to people undertaking such projects" in relation to the importance of health and safety. The public would be appalled at anything less than a custodial sentence." 
For advice on safety in the construction sector, visit http://www.hse.gov.uk/construction 
Notes to Editors: 
1. The Health and Safety Executive is Britain's national regulator for workplace health and safety. It aims to reduce work-related death, injury and ill health. It does so through research, information and advice; promoting training; new or revised regulations and codes of practice; and working with local authority partners by inspection, investigation and enforcement. www.hse.gov.uk
2. Section 3(2) of the Health and Safety at Work etc Act 1974 states: "It shall be the duty of every self-employed person to conduct his undertaking in such a way as to ensure, so far as is reasonably practicable, that he and other persons (not being his employees) who may be affected thereby are not thereby exposed to risks to their health or safety."
3. Regulation 28(1) of the Construction (Design & Management) Regulations states: "All practicable steps shall be taken, where necessary to prevent danger to any person, to ensure that any new or existing structure or any part of such structure which may become unstable or in a temporary state of weakness or instability due to the carrying out of construction work does not collapse." 
4. Section 33(1)(g) of the Health and Safety at Work etc Act 1974 makes it an offence "to contravene any requirement or prohibition imposed by an improvement notice or a prohibition notice (including any such notice as modified on appeal)." 
5 HSE news releases are available at www.hse.gov.uk/press.